Project: Promote the quality of life and the sexual and reproductive rights of people with disabilities in Colombia.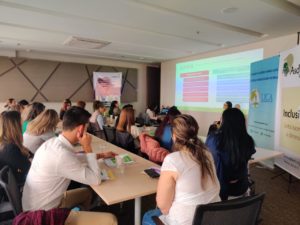 Since 2015, we have been in this project led by PROFAMILIA and partner organizations such as PAIIS - Action Program for Equality and Social Inclusion and ASDOWN - Colombian Down Syndrome Association. We are currently working on the third stage, which will be extended to the cities of Barranquilla, Bogotá, Bucaramanga and Manizales, where we have the support of family organizations.  
Within the framework of the project we have developed different instruments such as: virtual course, support booklet to be used in the care route that Profamilia has and the investigation "Prevention and approach of sexual violence in people with disabilities from a social determinants approach" . Available here: https://bit.ly/2VcTMPR
During the time of the project, people with intellectual and psychosocial disabilities in the cities of Bogotá, Barranquilla, Cali, Bucaramanga and Manizales have been positively impacted.